Antioxidant Toner
With Chammomile Extract and Co-Q10
This facial toner is specially formulated with a blend of glycolic acid, witch hazel and selected extracts to gently cleanse, tone and refresh skin. The toner is designed to remove oil and debris from the skin surface and will leave the skin feeling more invigorated and refreshed.
6.7 fl. oz.
$28.00
Broad Spectrum SPF 30
Broad Spectrum Protection UVA/UVB Micronized Zinc Oxide
Provides antioxidant broad spectrum SPF 30 protection against sunburn.
1.6 fl. oz.
$35.00
DNA/Cell Repair
Arabidopsis Extract, Micrococcus Lysate, Plankton Extract
Cell Repair Therapy is a specially formulated serum delivering repair enzymes , protective antioxidants and moisturizers to assist the skin's daily repair, recovery and protective process.
1.7 fl. oz.
$95.00
Eventone
Kojic Acid, Emblicia, Vitamin C
Eventone Enhancement Therapy Pads combine the skin toning enhancement benefits of Calcium Pantetheine Sulfonate, Kojic Acid, Arbutin and Bearberry with the powerful free radical quenching capabilities of Silymarin, Emblicia, Ascorbic Acid and Green Tea Polyphenols, optimized in an alcohol-free penetrating vehicle.
The convenient pad application system is activated with freshly prepared solution to ensure maximum efficacy and ease of use. The key ingredients of this unique system are delivered to the treatment area by way of a special trans-dermal penetration system.
60 pads
$85.00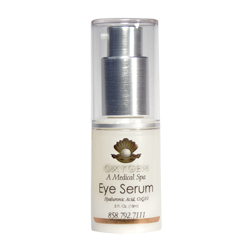 Eye Serum
Hyaluronic Acid, Co-Q10
This eye serum is specially formulated for the delicate areas under the eyes. This nourishing serum formula delivers the hydration benefits of Hyaluronic Acid, and utilizes a rich blend of antioxidants including Liposomal Vitamins A, C, E and Green Tea Extract in combination with Co-Q10. These antioxidants assist in minimizing free-radical-included skin damage.
0.5 fl. oz.
$50.00
Glycolic Acid Treatment Pads 20%
Liposomal Vitamins A, C, E, Green Tea & Co-Q10
Glycolic acid treatment pads gently exfoliate, moisturize and assist in the removal of oils and residue on the skin. These convenient and simple to use treatment pads contain Witch Hazel to deliver skin toning and astringent benefits.
60 pads
$42.00
Green Tea Antioxidant Serum
90% Polyphenol Isolates, Caffeine, Hyaluronic Acid
This serum is composed of 90% polyphenol isolates derived from green tea and fortified with Caffeine USP
1 fl. oz.
$65.00
Ultra Lite Facial Cream
2% Glycolic, 2% Salycilic Acids
Skin cleanser with glycolic acid for the treatment of acne.
1.6 oz.
$35.00
OXYGEN MEDICAL SPA ACNE KIT
$62.00
Acne Clearing Cleanser – Step 1
2% Glycolic, 2% Salycilic Acids
Skin cleanser with glycolic acid for the treatment of acne.
6.7 fl. oz.
Acne Clearing Toning Pads – Step 2
2% Glycolic, 2% Salycilic Acids
Cleansing pads for the treatment of acne.
60 pads
Acne Clearing Gel – Step 3
5% Benzoyl Peroxide
Topical acne medication.
2 oz.
Oil-Free Acne Clearing Moisturizer – Step 4
A delicate and mild general purpose moisturizer for the face recommended for all skin types. This aloe vera based moisturizer is free of oil, lanolin, fragrance, and contains no color additives. Pure aloe vera and glycerine help to bind moisture to the skin while squalane, a derivitive of one of the emollients found in healthy skin, and dimethicone help to further retard moisture loss.
2 oz.